Past Events Archive
Moving Vietnam Wall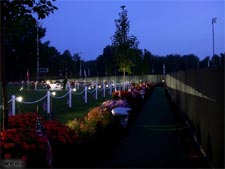 The Moving Wall at dusk.
© Richard West, West Photo Imaging
More Photos >

September 22-28, 2004 at Snow Bowl, Mahlon Dickerson Reservation

Thanks to the untiring efforts of Jack Kelly, chairman of the Bicentennial Committee, and support from New Jersey state legislators, Jefferson Township was selected from hundreds of applications from across the nation and was the only New Jersey community that hosted The Moving Wall this year.

Preparations for the arrival of The Moving Wall took take months of planning with the help of numerous volunteers and donations of needed construction materials. The Bicentennial Committee was responsible for organizing the preparations, selecting a viewing site and planning the weeklong event. One of the biggest challenges was the construction of a platform to support the 250 foot long granite structure engraved with the names of 15,225 men and women, all known casualties in the war, and those who are still missing in action (MIA).

While in Jefferson, the exhibit was open to the public 24 hours a day between September 23-28 which required the assistance of dozens of volunteers whose jobs included helping visitors find names, overnight security, assembly and disassembly, food preparation, parking, cleanup, and countless other tasks

Vietnam veteran Gerry Stegmaier wrote after visiting the memorial in another state, "The Wall is solid, its granite face designed to resist the elements for all time. Yet, as visitors touch its surface, the Wall becomes almost fluid. Small ripples of hope and healing spread ever out-wards. Like the concentric circles created when a stone is tossed into a pond, the impact of The Wall grows and grows."

Professional photographer and Bicentennial Committee member, Richard West, of West Photo Imaging, captured the display in some beautiful photographs that can be seen here.