Past Events Archive
Display of Original Charter creating the Township of Jefferson at the Municipal Building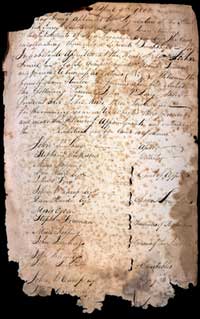 The original township charter received from the New Jersey Legislature on February 11, 1804, was on display in an enclosed case in the lobby of the Municipal Buildin, coinciding with the re-enactment of the first town meeting where the document was signed. This was possible thanks to the efforts of several people including Bicentennial Committee member Tom Burns.
On Wednesday, April 7, 2004, the Jefferson Township Council Chambers/Courtroom was transformed to replicate the first township meeting site held at Widow Hile Seward's home on the afternoon of April 9, 1804. At that time, 200 years ago, John DeCamp, David Hurd, Joseph Hurd, John Ford, and John P. Losey – members of the first Township Committee -- signed the charter creating Jefferson Township from parts of Roxbury Township and Pequannock Township.
The document was scanned and enhanced by Bicentennial Committee member, RIchard West. Click on the image at the right to view the document pages individually, or download a ZIP file containing high resolution scans of all the charter's pages.